« Town Meeting Scheduled for Three Sisters Springs | Home | Local Realtor Featured »
By Alison Markham, Broker-Associate, GRI, Realtor® | March 30, 2008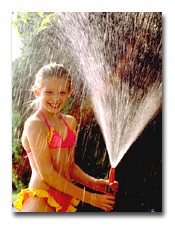 By Jim Hunter   More than a few Citrus Countians have vowed over the years – a lot of notables included – that if Tampa Bay stole Citrus County?s water it would be over their dead bodies.
That call to arms and the show of resolve behind it, the legislature's local sources first legislation, and a regional water district's policies on water development by specific region, all worked to stave off what might have been a power play over the last few decades to make Citrus share its water supplies with more developed areas to the south.
Stopped from coming north for more water, Tampa Bay Water, the regional water supply authority for its area to the south, developed a number of alternative water supplies, including a big desali-nation plant and surface water reservoirs to meets its needs.
Water official say that as Citrus is increasingly unable to tap more of its own groundwater in the not too distant future, it will have to turn to alternative supplies like desalination and surface water. And while the county won?t have had to share its water with Tampa Bay, Citrus will have share with adjoining counties in the future in cooperative projects, water officials say.
Under the same logic of regional water supply development that has spared Citrus from Tampa Bay, the county will find itself compelled to share with Hernando, Sumter and maybe Marion counties in regional development projects for alternative sources.
In one sense that?s good, because developing alternative water supplies is very, very expensive. Citrus will get water that citizens and businesses can afford, officials say, though they add it won?t be as cheap as today?s water.
In another sense, though, the diehards for keeping water from being taken out of the county will have to reconcile their protective attitudes with the new conditions that are prompting water planners to put the regional water supply authority into a full-time water developing mode.
Going it alone as counties have done up to now in the north end of the water district will be a thing of the past. The Southwest Florida Water Management District governing board has said it is making regional projects the priority for its funding. The district has money to build expensive pro-jects because it has the power to levy property taxes to pay for water projects.
Local governments are strained just to provide all the other infrastructure and services. Unable to get more groundwater withdrawal permits because of the impact of those withdrawals, they will find themselves with little option but to take part in regional supply development.
One Citrus official was recently heard to mutter something about it being like a form of blackmail, but in any case, for Citrus at least, it means a bit of a paradigm shift.
Citrus County Commissioners who sit on the Withlacoochee Regional Water Supply Authority ap-pear to have accepted the need to begin to start planning for alternative sources now, though they emphasize that desalination, not withdrawal from surface waters, is the way they want to see alterna-tive supplies developed.
Until recently, the water district officials said the northern part of the district had water supplies sufficient for at least the next 20 years, but now they are saying because of growth and new limits on groundwater withdrawals coming the water authority needs to start planning now.
Driving the need to change are two things: growth and the setting of minimum flows and levels for the aquifer and all the region?s rivers, lakes and springs.
It turns out that the whole of Citrus County is a spring shed for the coastal springs. What is taken from surface and underground water resources inland has an effect on those springs.
Minimum flows and levels are the levels at which further withdrawal begins to damage the envi-ronment and the resource. The legislature mandated they be set and those numbers will be set for Citrus in the next few years.
Already though, in a growing region defined by what can be a very pronounced wet-and-dry cycle, including periodic droughts, the traditional source of water for the region, the aquifer, begins to look less and less abundant as the minimum flows and levels are being prepared, officials say.
The Withlacoochee Regional Water Supply District, fairly inactive until now, save one wellfield in Citrus that serves Citrus, is the agency that is designed to develop water supplies in this region.
It?s part-time director suggests it go full-time and begin the business of planning for future alter-native supplies, a process that can take a decade for initial projects to come online.
Executive Director Jack Sullivan is suggesting the water district fund the start-up with $400,000 for five years, and then the authority would have to be self-sufficient after that. It is now supported by about $140,000 annually through a 20 cent per capita fee for each county member of the authority. After the five-years start up, Sullivan projects the per capita would need to be 25 cents for the author-ity to be self-sufficient.
Authority members, made up of county commissioners and city councilmen, say because of the economic situation, this year isn't the year to start increasing the charge, though. Citrus County Com-missioner Dennis Damato put it in perspective, however, noting that the counties pay 40 cents per capita for membership in the Withalcoochee Regional Planning Council.
The governing board of the water district is expected to indicate in the next few months whether it will begin to fund the start up of full-time authority.
Topics: Citrus County Noteworthy | No Comments »
Comments
You must be logged in to post a comment.