« THE ISSUE: Encouraging waterfront homeowners to construct barriers between yards and water. | Home | Inverness offers full day of fun »
By Alison Markham, Broker-Associate, GRI, Realtor® | April 4, 2008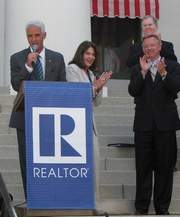 By Steve Liner
BUSINESS MATTERS EDITOR
• March 27, 2008
When Florida's Realtors hosted lunch in the Capitol courtyard Wednesday, they were hoping for good news to go with their Chinese chicken salad. Elected officials gave them a feast.
"Sales in Florida were up 23 percent in February over January," said Florida Association of Realtors (FAR) President Chuck Bonfiglio as he introduced Gov. Charlie Crist.
Crist reported Floridians experienced a 16-percent reduction in home insurance "in the last year." He also cited a "fantastic" lowering of property taxes, anticipating "a $25 billion reduction over the next five years."
"It's not enough, but it's a heck of a start," he said.
"We've reached the turning point (in home sales)," said Florida Chief Financial Officer Alex Sink.
U.S. Sen. Mel Martinez gave a national perspective. "We have a real crisis on our hands," he told the Realtors about the residential real estate market. "We need to do something to draw down the inventory of unsold homes.
"We have to modernize FHA," he said, speaking of the federal home loan program. "We need to return the American dream to young families, and FHA needs to help them."
Martinez said there needs to be "more liquidity" in the market, proposing a five-year tax credit program of up to $3,000 per year.
Response from Tallahassee Realtors also was upbeat.
"Looking at January and February, each month has been better," said Tallahassee Board of Realtors President Patti Ketcham. "I don't know if it's a trend, but it's the right direction."
Meanwhile, new statistics detailing February existing home sales showed the Tallahassee area including Wakulla, Gadsden and Jefferson counties had Florida's most stable prices with a year-over-year loss of 1 percent. Statewide, there was a 16-percent price decline.
Realtors travel to Tallahassee each March for the FAR's Legislative Days. About 800 members attended committee meetings and conferred with their legislators during the two-day gathering.
Realtors noted other signs that real estate sales' downward trend is reversing. Summer Greene from Broward County said her area has seen a 16 percent increase in pending transactions, homes on the market that have sales contracts but haven't closed. She called that a "forward-looking" indicator.
"It's like everybody woke up Feb. 1 and said, 'Enough of this,'" she said, adding prices have declined and mortgage rates have fallen to the point buyers are returning to the market.
FAR announced this week Florida's existing home sales totaled 8,310 in February, down 25 percent from February 2007. The Tallahassee area posted a 17 percent downturn, from 264 homes sold in February 2007 to 219 homes sold in February 2008.
Existing home sales volume is expected to hold steady through late spring, according to the National Association of Realtors. A gradual recovery is anticipated during the second half of the year as the mortgage market improves.
"We will need to have real increases before we know if this market has found the bottom," Ketcham said.
# Business Editor Dave Hodges contributed to this report.
Topics: Real Estate News | No Comments »
Comments
You must be logged in to post a comment.